Safetyflex Barriers, a Warwickshire based manufacturer of anti-terrorism bollards and barriers, has added a uniquely designed surface-mounted product to its crash-rated range of street furniture that can stop vehicle threats in public places.
The surface-mounted barriers do not require any foundations or ground fixings, offering instant protection on a permanent or temporary basis, and are supplied with a bespoke cladding that means they can also be used as functional street furniture and planters.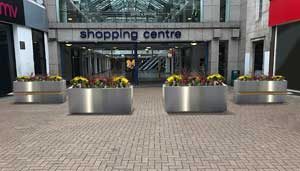 Crash-tested to industry standards BSI PAS68 and IWA14, the planters can withstand impact at speeds of up to 50mph.
Safetyflex has already received orders to install them at key buildings, public realm spaces and shopping centres across the UK.
The company has also been granted a UK patent, giving the Coventry based company more than 30 of its products patented in the UK and around the world.
Marcus Gerrard, director at Safetyflex, said: "We've been asked by many city centre projects for a crash-rated planter solution with a shallow foundation, so our design team came up with a surface-mounted, crash-rated product that can be used as a planter or street furniture with absolutely no need for foundations.
"After a year of research and development, we believe they are truly innovative and a real game changer because of the flexibility and functionality they offer while still providing industry-leading security protection.
"They can be picked up and relocated to suit changing needs, as we have seen in town and city centres during the Covid-19 pandemic, and adds to our range of crash-rated street furniture which already includes bike racks and signposts.
"As the world begins to open up and large-scale gatherings slowly resume, our latest products will allow us to help our customers react quickly to emerging and changing threats to public safety and security, with a desirable effect because while these new products will look pleasing to the eye, no-one will be aware that what is hidden inside is a crash-rated, anti-terrorist solution."
Safetyflex Barriers is part of the GME Springs group.