First Fence is playing its part in the manufacture and distribution of much needed COVID-19 PPE equipment for NHS staff.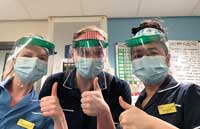 The Derbyshire based company, with depots around the UK, has stepped in to fund materials for the production of the essential PPE masks which are at the centre of a major shortage crisis.
Combined with this the company is using its distribution network to get the equipment delivered.

"We readily responded to the request for finance," said Vinny Kotecha, (pictured left) director of First Fence. "It is a national and global emergency and we are only too glad to do what we can to support those who are on the frontline."
A company in Swadlincote, where First Fence has its UK headquarters, is producing the equipment but needed companies to step in with cash for materials.
More than 4,000 of PPE were initially delivered free to GPs, first responders, nurses, the A&E department at Glenfield Hospital in Leicester and departments at derby hospital. That has now surpassed 14,000 units.
"We have continued to operate from all our sites," said Kotecha, "nd that means we have also been able to provide distribution to the particular sites. We feel privileged to be able to support those who are putting themselves at risk for the good of others. They are doing amazing work."
The company has depots in Birmingham, Bradford, Bristol, Glasgow and London.
First Fence have found themselves at the forefront of Government action to implement social distancing with the company deploying temporary fencing to London parks.
"While adhering to Government guidelines on social distancing within the workplace we are still able to offer a comprehensive service," said Kotecha.