Gate lock manufacturer Zedlock has launched a range of high security gates.
The West Sussex company has designed from the ground-up and included what it describes as 'a range of innovative security features'.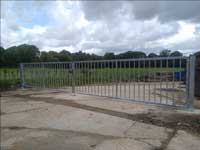 Aimed at securing compounds, driveways and yards where valuable equipment is stored, the core crietria was the desire to create an easy-to-operate gate that wasn't prone to attack by a mini cordless grinder.
Available in spans of 3, 4 and 5 metre (single gates), and 6, 7, 8, 9 and 10 metre (double gates), the 1.2 metre-high gates have vertical infill tubes to discourage climbing. Zedlock designed the gates in response to the rising frequency of gates being rammed which highlighted the lightweight construction of standard field and yard gates.
In addition certain areas are prone to having gates stolen; the typical field gate weighs 20-30Kg so is easily lifted. In contrast the Zedlock gates weigh 70-90Kg. All gates and posts are hot dip galvanised to EN ISO 1461 and can additionally be powder coated in any RAL colour if required.
The gates are designed to accept all Zedlock variants without drilling, and also feature locking pins at the hinge end, which means that even if the hinges are tampered with the gates will remain in place. Double gates include a drop rod which travels within the gate frame and is locked in the lowered position when the Zedlock sliding bolt is closed.
Zedlock gate posts are 100x100mm with a 4mm wall, and feature five M10 threads on the outside face so installers can attach wire or post and rail to the posts without effort. The gates are made to order due to the number of options available but Zedlock keep a limited quantity in stock.