When LPCB introduced its new LPS 1175 Issue 8 security standard, CLD Fencing Systems opted to go back to the drawing board create a new style of security fencing that could delay the new attack styles and tools but at the same time would be quicker to install.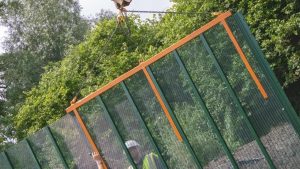 Taking their Securus (AC) SR2 Fencing system, that had previously been tested and certified to LPS 1175: Issue 7. The manufacturer, one of the largest producers and suppliers of rigid mesh fencing systems and security gates, started to look at how the system could be off-site assembled in the manufacturing process and then shipped for a minimum 2 person install.
Using advances in the fixing systems from the SFenceSafe SR1 security rated temporary fencing system, the new permanent perimeter solution has reduced the number of visible external fixings to 11.
This means all the fence cassettes, that includes a double layer of mesh; can be manufactured at CLD's head offices in Sandbach, Cheshire before shipped to customers.
Due to this, installation is claimed by the company to be at least three times faster for contractors on site. Alongside of this, CLD Fencing Systems have also manufactured a new lifting system which allows quick release of the fencing cassette without the need to work from height. With a cassette weighing just over 165kg for 2.4m high and 203.05kg for a 3m, making the installation, it says, quicker and safer when using mechanical lifting devices.
At the same time, for sites where mechanical equipment are unsuited the high security fence can also be supplied for assembly with a reduction of 46 per cent less fixings than the equivalent Securus (AC) SR2.