A Shropshire coach company has beaten the fuel thieves who threatened to wreck their business after 100 years of operation by the same family.
AT Brown (Coaches) Ltd of Telford installed monitored pulse fencing (MPF) to prevent break-ins, where burglars were syphoning off diesel from coaches.
SPG Security Systems UK Ltd from Crewe installed an MPF from manufacturer Gallagher Security, which has literally stopped the criminals in their tracks.
AT Brown was started by Alf Brown in 1916 and is now run by Alf's granddaughter, Nina, and her husband Ewen MacLeod.
After 80 years of operating on the busy Trench Road in Telford, the company relocated in August 2005 to larger premises on the town's Hortonwood Industrial Estate.
Mr MacLeod said: "For the first eight years on the new site, thieves were coming through the security fence and syphoning fuel out of coaches, despite having CCTV cameras and mobile patrols.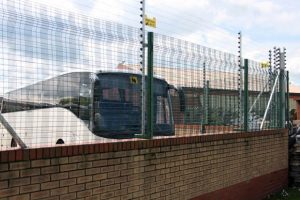 "The MPF has made everyone feel more secure, which is a very important factor, and now we can just carry on running our business the way we want to."
SPG, who have been installing this type of system for nearly 20 years, retrofitted the Gallagher MPF onto the pre-existing security fence, ensuring no disruption to ongoing operations.
Founder and MD Simon Gleave said: "They've not had a single incident since we installed the MPF four years ago, which offers both a visual and practical deterrent.  Once you've touched it, you don't want to do so again!"
The business now runs a fleet of 24 coaches and employs a total of 27, including drivers, office and maintenance staff.
Gallagher Security strategic business development manager Kevin Godfrey said: "CCTV can be really useful but it tends to watch and not detect the crime.
"Our MPF is really easy to retrofit on to existing fences, so is highly cost-effective and it has negated the need for the patrols and the CCTV."
The full case study can be viewed on the Gallagher Security YouTube channel.