Heald's sliding bollard system, the Matador, has won the Perimeter Protection Award at the Counter Terror Awards 2018.
The ceremony, which took place during the Security & Counter Terror Expo at the Olympia in London, was presented by Rt. Hon Sir Michael Fallon.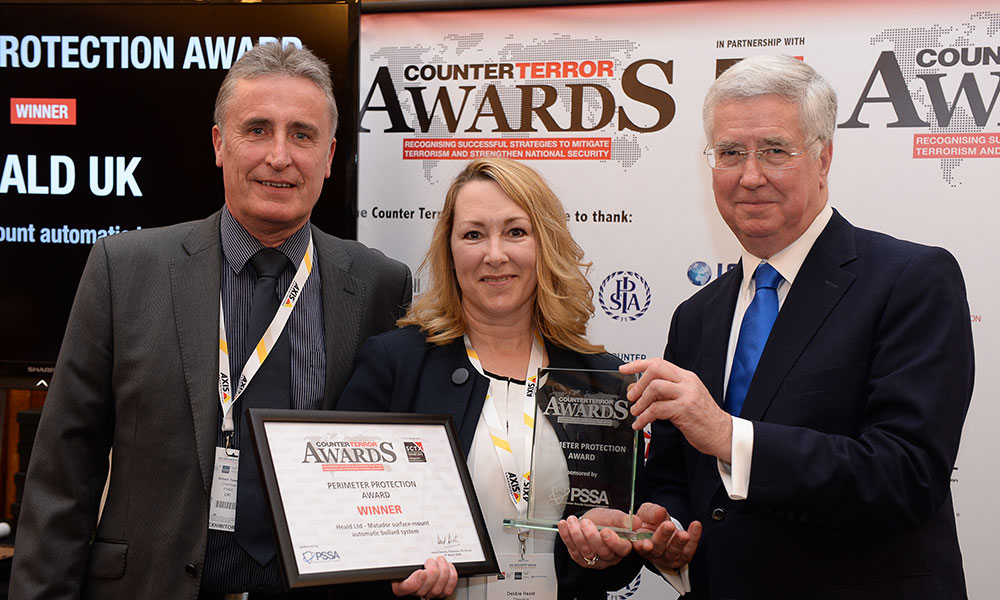 The Counter Terror Awards seek to recognise the efforts of both public and private sector organisations who have made significant contributions to counter terror strategy in the UK and overseas.
The Matador is a sliding bollard system which has been recognised for its innovative design. It is completely surface mounted and has been IWA crash tested to halt a 7.2 tonne truck at 40 mph. It is installed in the UK and overseas including the Stavros Niarchos Foundation Cultural Centre in Athens and the Historic French Quarter in New Orleans.
Heald managing director Debbie Heald MBE added: 'I am delighted that our product, the Matador has been announced as the winner of the Perimeter Protection category in the Counter Terror Awards. It is a huge honour for Heald to be recognised by the counter terror industry in this way. I would also like to congratulate all other winners and nominees.'
Heald's Matador is a multi-award winning product, including a recent win at the Made in Yorkshire Awards for innovation.
Pictured above is Debbie Heald reciving the award from Michael Fallon (right) together with PSSA executive chairman  Simon Towers (left).