Debbie Heald, managing director of the security manufacturer Heald Ltd, has been awarded an MBE for her services to STEM and Export.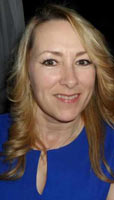 Over the years Debbie and the business, set up in 1987 in Hornseas,  have been recognised in a number of industry and business awards including the Institute of Director Awards where Debbie was named the regional Family Business Director of the Year 2017.
Commenting on her MBE, announced in the Queen's New Year's Honours List, Debbie said: 'It was a complete shock but an absolute honour to be awarded an MBE and I would like to extend my appreciation to all the team at Heald, our distributors and customers throughout the world who have been instrumental in the success of the business. I would also like to thank my partner Rod and our daughters for their continued patience and support.'
It was her partner Rod Heald who first started the company and she acquired a 50 per cent stake in the company in 1994 with the company then moving into the security barriers sector and has just added electronic security to the products portfolio.
A total of 70 per cent of the Heald products are shipped overseas.
Heald as we discover has been shortlisted for four prestigious awards across the Counter Terror Awards and the Made in Yorkshire Awards.
Taking place on the 6th March at Olympia, London, the Counter Terror Awards recognise the efforts of both public and private sector organisations who have made significant contributions to counter terror strategy in the UK and overseas.
The two Counter Terror Awards Heald have been shortlisted for are:
Outstanding Contribution to Counter Terrorism
Perimeter Protection Award
Alongside this, the two awards Heald have been shortlisted for in the Made in Yorkshire Awards are:
The Manufacturing Innovation Award
Manufacturer of the Year (up to £25m)
The winners from the Yorkshire awards proceeding to the national final in June.