A range of crash barriers has been enhanced by the addition of a corrosion protection coating.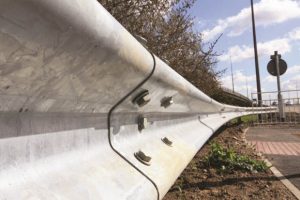 Leading wholesaler FH Brundle has added the Magnelis metallic coating to its range of Armco crash barriers – a regular safety feature in factories, vehicle parks and industrial premises.
Head of Marketing Paul Smith said: "We are always striving to increase our product choice to ensure customers get the highest standard and best value for money possible.  Tests show that Magnelis is cost-effective and environmentally-friendly and is quite simply the best choice for a variety of onsite applications."
Magnelis provides a greater level of surface protection and a self-healing effect to barriers.
FH Brundle claims its Armco range, which includes beams, posts, corners and ends, is lighter, longer-lasting, cost-effective – and maintenance free for up to 30 years.