Hadley Group has improved its UK production capabilities with the introduction of a new flying shear at the end of its rolling mill.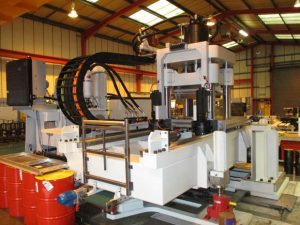 The new high-speed 250-ton machine at Hadley's Downing Street production site can accurately pierce and cut to length heavy profiles up to 8mm.
The advancement is in the late stages of construction with a view to entering the test phase soon and marks the culmination of more than two years of hard work. A team of four design engineers and four build engineers have worked tirelessly to design the shear from scratch, from buying the parts to manufacturing the item.
Weighing nearly 15-tons, the moving carriage on the new shear is driven by two servomotors, which drive through two precision gearboxes and finally through twin high precision rack and pinion.
The HMI display gives the operator numerous programming benefits over the old machine, with all programming, operating and troubleshooting documentation readily accessible on screen.  Job specific settings can be saved either on the machine as special jobs or to the network server.
Hadley Group deputy MD Ben Tore said: "We put innovation at the forefront of everything we do and constantly try to find efficiencies within our operation.  This new shear will significantly improve capability and repeatability of heavy gauge profiles.  It's testament to our incredible team of design engineers and build engineers, who have devoted almost two years of effort to helping us design and manufacture the new model."
The new model is equipped with high-speed actuation with a fully programmable stroke length, which will be used for all existing and future tooling.  It also boasts automated height adjustment, front/rear adjustment and the ability to cater for complex features including swept sections.